California Bear Flag Revolt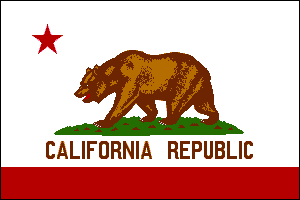 The California Bear Flag was first raised in Sonoma, California in 1846 by rebellious white settlers, who declared independence for California, in what came to be known as the Bear Flag revolt. The flag was created by a nephew of Abraham Lincoln, and contained a large "lone star", a caricature of a California grizzly bear, and the words "CALIFORNIA REPUBLIC". The revolt was short-lived. Within months, the United States was at war with Mexico and the bear flag was replaced by the United States flag. A refined version of the flag, with a smaller star and finer rendition of the bear is now the official state flag of California.
"The Bear Flag is the State Flag of California. As viewed with the hoist end of the flag to the left of the observer there appears in the upper left-hand corner of a white field a five-pointed red star with one point vertically upward and in the middle of the white field a brown grizzly bear walking toward the left with all four paws on the green grass plot, with head and eye turned slightly toward the observer, a red stripe forms the length of the flag at the bottom and between the grass plot and red stripe appear the words CALIFORNIA REPUBLIC." –Official California Record
Rendering and photograph of the first bear flag. The original flag was destroyed in the 1906 San Francisco earthquake and fire.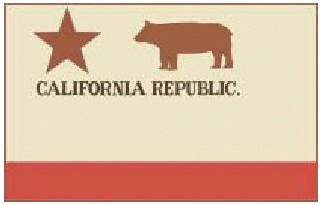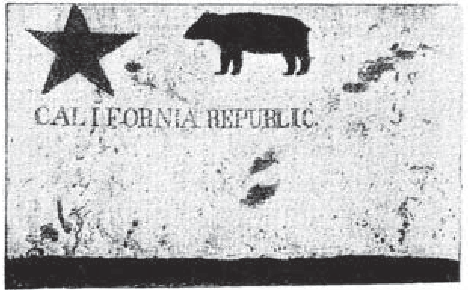 "… the colors on the flag are to be substantially the same as these color references; White-of the white field and the bear's eye and on the bear's claws is White . Red-of the red stripe, the star, and the bear's tongue is Old Glory, [Pantone 200]. Green-of the grass plot is Irish Green, [Pantone 348]. Brown–of the bear is Maple Sugar, [Pantone 729C]. Dark Brown– of the bear outline, paws, shading, fur undulations, iris of the eye, the 12 grass tufts in the grass plot and the setters is Seal, [Pantone 462C]."
Various different versions of the bear flag were created and used by the rebels. Known flags are depicted below. (Images from State of California Military Dept)